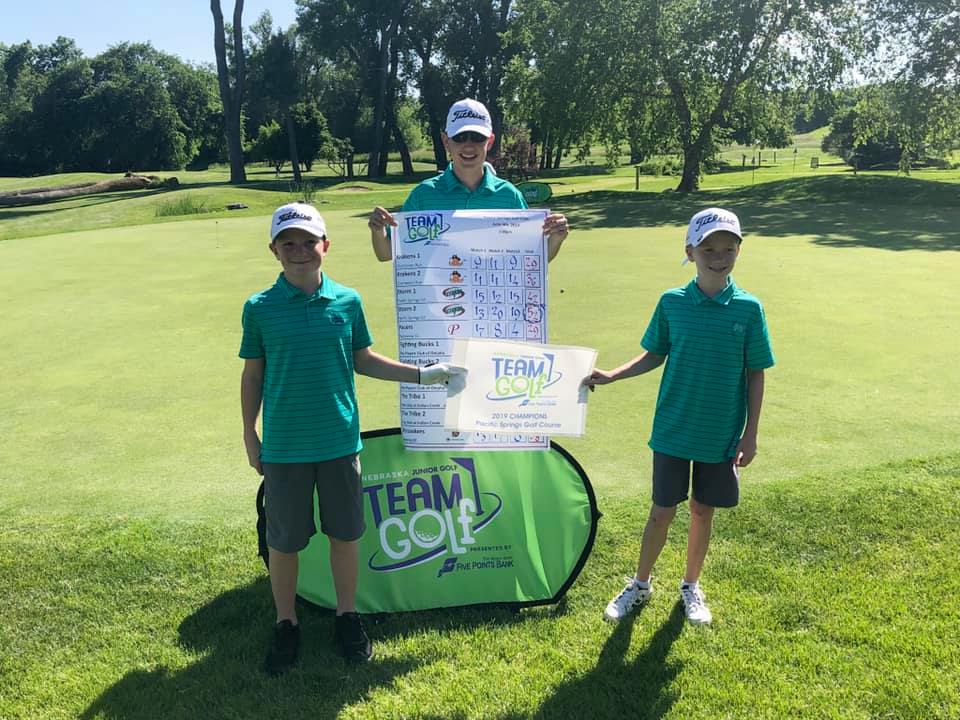 Omaha, NE – Pacific Springs Golf Club played host to the 2019 NJG TEAM GOLF event presented by Five Points Bank on Wednesday, June 4th, 2019. Through 9-hole team competitions, TEAM GOLF serves as an introduction to tournament play for junior golfers, age 7-13. Designed to serve the beginning golfer with minimum experience, TEAM GOLF's format can be played by anyone regardless of skill. TEAM GOLF helps young golfers learn the game with a set of beginner friendly rules such as no hazards, stroke limits, and the ability to drop a ball out of a bunker. Along with these rules, TEAM GOLF is also played through a scramble format allowing the golfers to have fun competing together as a team.
The Pacific Springs Storm scored 52 points to snag their first victory of the season. The Storm are coached by Head Golf Professional Justin Herron. The champions of this event were Teegan Chappell, Kaiden Goss, Adriana Basilico, Megan Westby, Roy Steventon, Ryder Higdon, Caleb Goss, Alexander Basilico, and Cameron Bizzarri. Finishing behind the Storm in 2nd place was the Fremont Golf Club Express and in 3rd place it was the Avengers out of Ashland Golf Club. Each TEAM GOLF team is earning points all season long with the goal of reaching the 2019 TEAM GOLF Championship on Friday, August 9th at The Country Club of Lincoln.
Special thanks to our season long presenting sponsor, Five Points Bank and to host Head Golf Professional, Justin Herron as well as the entire Pacific Springs Golf Club staff for hosting such an incredible event.
For the full results please click here.